KNOXVILLE'S JOHNNY KNOXVILLE
EMAIL OF THE WEEK




Hey Holly,

This story/encounter was my last one with Bam, before I moved here(to Texas), but before that like2-3 months ago, I lived in Pennsylvania.....Right outside of Philly, so I went to Fdr skatepark almost everyday, and If you know much about bam, you'd know he loves Fdr skatepark(which is under a bridge across from the 'Spectrum'......So I was skateboarding, you know doing my thing, and I stop to chill and take a rest, when I see Bam pull up,(in his Black Audi S4, w/ the licsience Plate: CKY ) So I went over to pay him a visit and he was just leaning against his car talking to me, I was telling him how it sucks that I'm moving and shit! Then he looks at my board goes into his trunk and pulls out a not even unwrapped board and handdded it to me and said, "looks like you could use a new one," I was stoked even though I've known this bro' for at least half a year....I never expected to just pull out a board and give to me!.....He and I still chat once in a while, I recently called him up to do an interview for my website!!

-AnArchy Andrew
ANDREW SAID THAT I COULD POST HIS EMAIL SO THAT YOU GUYS CAN ASK HIM QUESTIONS ABOUT BAM.
I GOT 2 GREAT EMAILS THIS WEEK SO BE SURE TO READ BOTH OF THEM. THANKS GOES OUT TO CAMILLE COLBURN AND WEBMISTRESS BRANDI!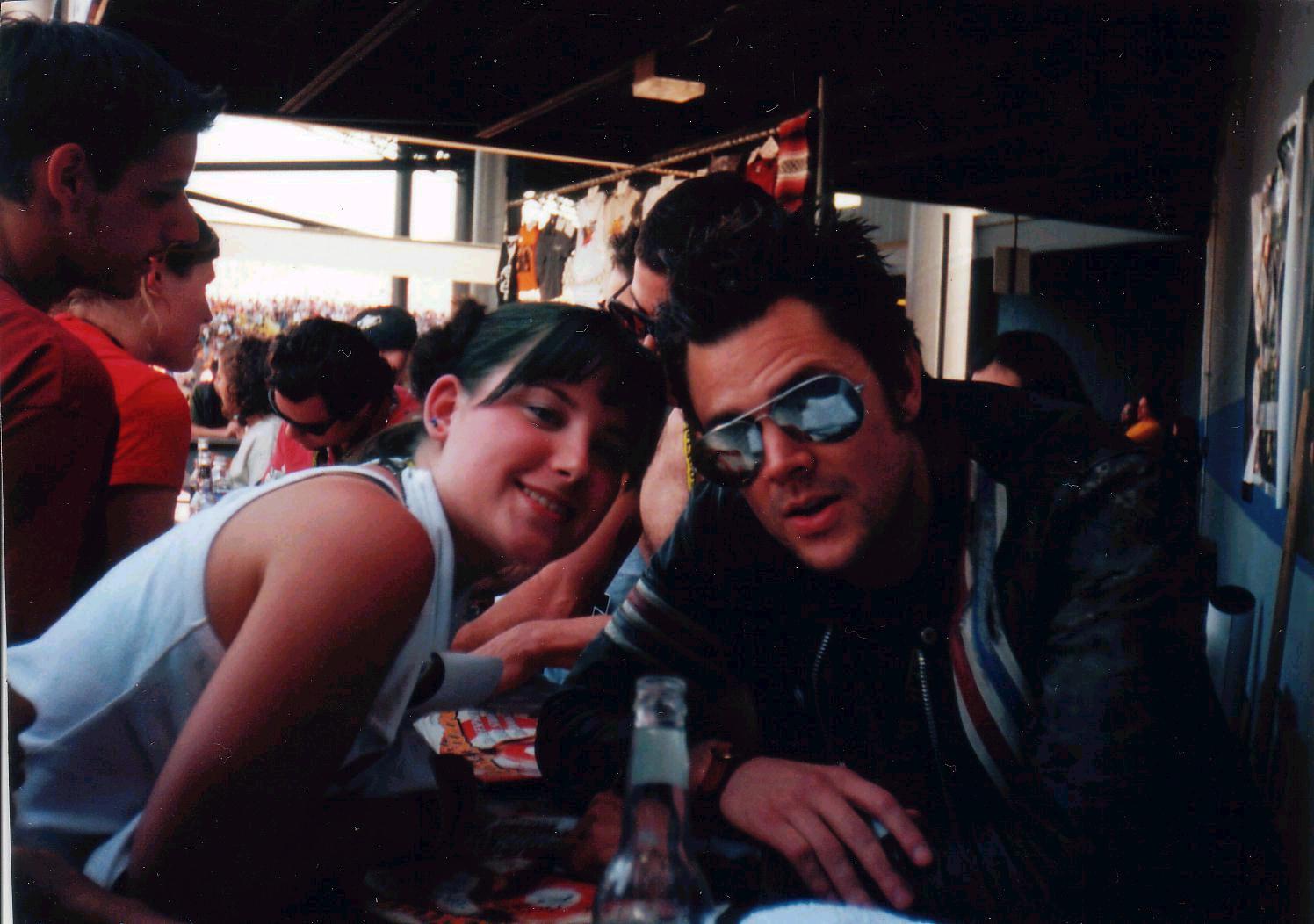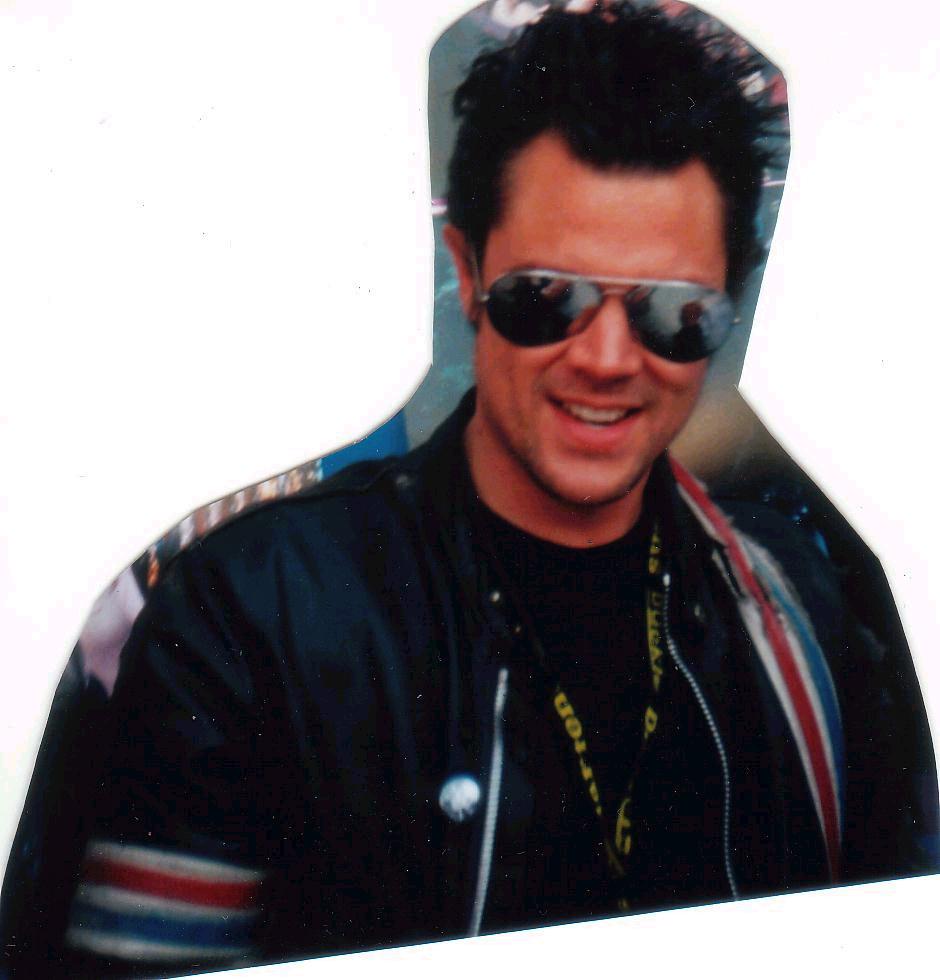 5/24

Holly...A local radio station out here in Chicago called Q101 does this jamboree thing every year where they have alternative bands come out to one of our concert venues, and this year they had like cold, staind, disturbed, and stuff like that, and I didn't really dig the people there, then I heard on the radio that jackass was gonna be there and wanted to go then so badly. Miraculously my friend had an extra ticket and let me have it, so I went to the 12-hour show just hoping to get even a glimpse of them. When I got there, they had o poster of what bands were signing at what times and I noticed the jackass guys were signing at 5:30- you don't know how happy I was to find that out, I almost cried! Anyways, sorry to bore you, but we were watching a band play, and it was like 10 to 5 so I decided to walk down to the line which was already huge. So, I kinda squeezed my little self up near the front and climbed on a table next to the line so I wasn't squished by all the people in line and scooched myself to the front of the table which was right near where the guys were supposed to come in. So at around 5 o'clock all of a sudden I see Johnny, stereo, and Chris walk in, so I stood up on the table to get good pictures, but then no one would let me down to get their autograph! So steve-o grabbed the rolling stone cover I had with me out of my hand and had Johnny signed it and passed it back, but I told him I wanted to meet them and get some pics and autographs, so steve-o put the autograph down and got me off the table and squeeze through up front to get to them. I asked Johnny for a hug and some pictures and he said sure and pulled me up on the table to get a picture and gave me a hug, he was sooooo polite and nice. Then he tried to talk to me, but I was so star struck by meeting him cuz i'm a huge fan I couldn't talk, so he smiled and laughed and said some other things and I went on to meet steve-o who was awesome too! I talked to him. Then I saw Chris pontius, and my friend Sarah loves him so much but she wasn't there so I told him he was her favorite skater and asked him to sign something for her so he got some paper and put Sarah, I love you,xxooxx, love Chris pontius and let me take pictures of him to give her, and asked me some questions. I met a lot of the other bands that day too, but the jackass guys were the nicest guys I think I have even met out of anyone in my life, they were so nice to every fan and weren't jerks at all, not ever and I stood there for about an hour, and they did some skits on stage, it was awesome! So yes, they are all wonderfully nice! I hope I didn't bore you to death with silly details, but it was quite an experience I got all their pics and autographs, and I hope to meet them again and talk a little more.......bye bye. Camille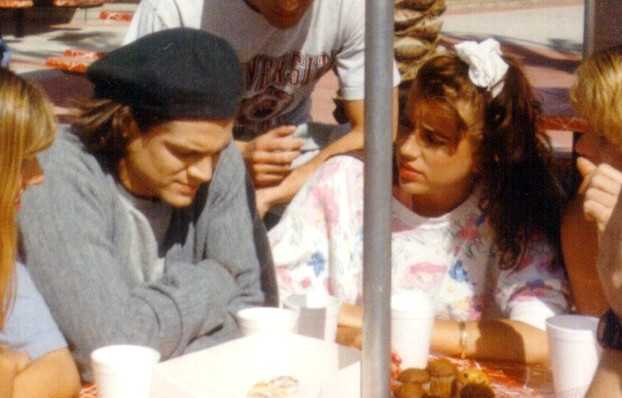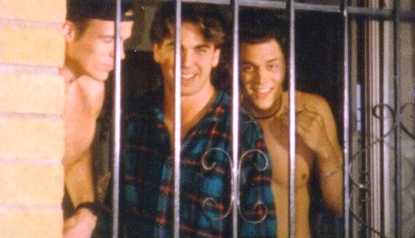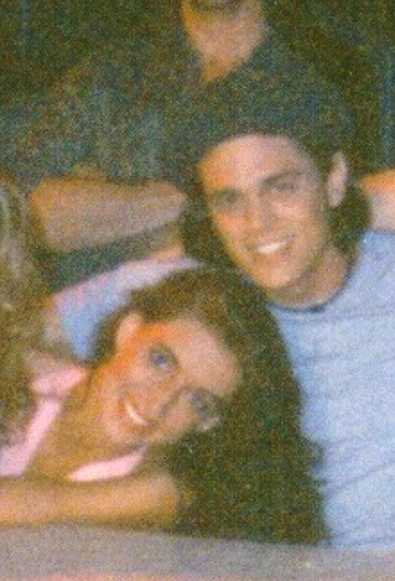 5/24

ok i got these pics from his ex- girlfriend Becky Ancira these pix are from him and becky making a movie called "Desert Blues" They were dating during this movie so thats why they are all over eachother, she comments that he was a great goofy actor, and she still has love poems and letters he wrote to her, and he was very nice guy and at that time he went by the name of phillip john!!!
from Brandi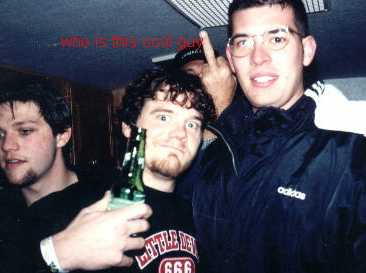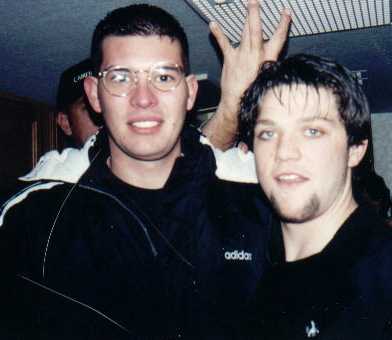 4/30

I'VE BEEN EMAILING WITH RON HARPER (SEEN ABOVE WITH BAM AND RYAN AT A CKY SHOW IN PHILLY.) HE IS A FRIEND OF BRAN'S AND HAS AGREED TO LET ME POST HIS EMAIL ADDRESS IF YOU WANT TO EMAIL HIM WITH QUESTIONS AND STUFF. THANKS FOR THE PICS RON, AND GUYS, PLEASE DON'T HARRASS THE POOR GUY! HE'S REALLY NICE.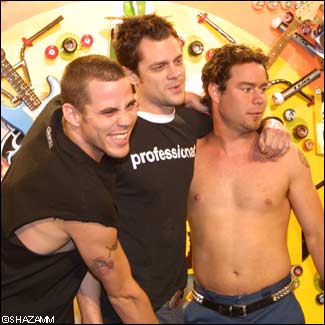 4/22

MY FRIENDS AND I WERE LUCKY ENOUGH TO ATTEND THE ESPN SPORTS AND MUSIC AWARDS, WHERE, WE HAD THE PLEASURE TO MEET JOHNNY KNOXVILLE, BAM MARGERA, STEVE-O, WEE-MAN, BRANDON DICAMILLO, AND CHRIS PONTIUS. THEY ALSO WERE GIVEN TIME ON STAGE TO PRESENT AN AWARD, IN WHICH, CHRIS CAME OUT NAKED, WE WERE EXCITED TO WAIT AND VIEW THIS ON TUESDAY THE 10TH AT 6:00 PM PACIFIC TIME, BUT WERE SADLY MISTAKEN WHEN IT WAS NOT AIRED ON ESPN TONIGHT! WE WERE HOPING, WITH YOUR HELP, ALONG WITH THE OTHER JACKASS SUPPORTERS, WE COULD RALLY ESPN, AND GET THEM EITHER SEND US THE FOOTAGE....OR.....AIR IT IN ITS ENTIRETY....(WHICH THEY WON'T DO) BUT WE WANT THE FOOTAGE, AND TRUST ME, YOU DO TOO. IF YOU WOULD LIKE TO HELP GO TO: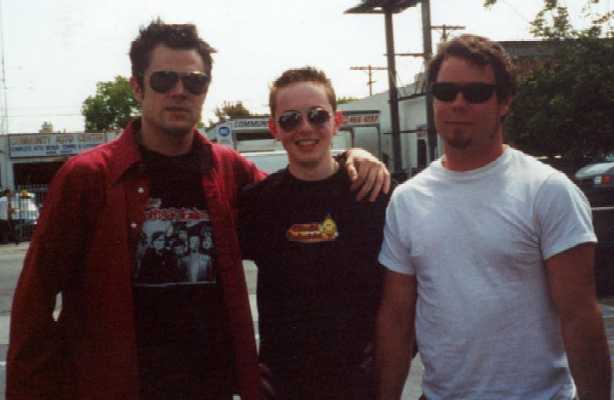 4/13

hello,
my name is christine and i have a johnny knoxville encounter story. recently my good friend tricia and her brother ed were visiting los angeles, california. they had the amazing chance to meet mr. johnny knoxville himself. their story goes as follows:

Monday, April 2, 2001: My mom, my brother Ed and I headed out to do some sight seeing around Hollywood and Beverly Hills. It was 2pm and we had already done the Hollywood thing and decided to head over to Melrose to look at shops and be tourists. Ed sat in the backseat, disgruntled, wearing his aviator glasses like his Jackass hero. My mom made a wrong turn and we ended up a good 10 blocks away from the street we needed to be on. We turned onto Melrose to find the shop we were looking for. Suddenly, out of the silent depths of the back seat Ed shouted "Mom!! It's Johnny Knoxville!!!" We did not take much heed to his exclamations until he finally yelled "MOM! I'M NOT FUCKING JOKING!!! IT'S JOHNNY KNOXVILLE!!!" We believed him this time! So my mom turned the car around, went into an ally, and into the back drive of a California Chicken Cafe. Ed had seen Johnny getting into a car when we drove by the first time, so when we got into the lot, the car was backing out. In a desperate effort to block them, my mom aimed the car in a direction preventing them from getting out of the lot. Frantically waving her hands like a mad woman, she darted out of the car (seriously, I have never seen that woman go faster), and went right to the back window of the car where Johnny was sitting, yelling, "My son loves you!! You're Johnny Knoxville!! Is that Bam in there? Can we take your picture?" My mom was so cute, she has no idea what she was talking about. It was Chris Pontius in the back seat with Johnny, along with Jeff Tremaine in the front. They were all laughing. Johnny couldn't have been nicer. He leaned over to Pontius, then said "Hey man, let's get out of the car." Ed walked up, with a huge grin on his face, and said, "Oh man, you're my idol!!" Johnny asked his name then said "Hi Ed, I'm Johnny Knoxville, and this is Chris Pontius." It was just like on Jackass. They shook hands, and posed with my brother for a picture, shook hands again, and got back in the car. They all waved at me and said "Hi" when they drove by as I sat hysterically laughing in the car. Needless to say, we did nothing for the rest of the day except laugh about the encounter.