JOHNNY DID GREAT LASTNIGHT ON LETTERMAN. I MISSED THE JAY LENO INTERVIEW SO THIS WAS REALLY THE FIRST TIME THAT I HAVE SEEN HIM SAY ANTHING MORE THAN SOMETHING LIKE, "HI. I'M JOHNNY KNOXVILLE, AND TODAY I'M GOING TO ARTIFICIALLY INSEMINATE A COW." HIS ENTRANCE WAS CLASSIC. INSTEAD OF WALKING IN HE DROPPED ABOUT FIFTEEN FEET FROM THE SCAFFOLDING ABOVE THE STAGE. WHEN HE FELL, HE ROLLED AROUND A LITTLE BIT LOOKING A LITTLE HURT, BUT HEY, WHAT'S NEW?

THROUGH THIS INTERVIEW I STARTED TO LIKE HIM EVEN MORE. HE'S JUST A NICE GUY. HE SEEMS HAPPY, DOWN-TO-EARTH AND LAUGHED THE WHOLE TIME.

HE TALKED ABOUT THE FILMING OF "LIFE WITHOUT DICK" WITH SARAH JESSICA PARKER, AND THE NAME OF THE FILM BROUGHT A GOOD CHUCKLE FROM THE AUDIENCE.

DAVE ASKED JOHNNY IF HE WAS REALLY FROM TENNESSEE, AND HE SAID YES, OF COURSE. HE'S NOT EXACTLY IN THE CLOSET ABOUT BEING FROM KNOXVILLE. DAVE ASKED IF HIS NAME IS REALLY JOHNNY KNOXVILLE. HE LAUGHED AND SAID, "NO, IT JUST ROLLS OFF THE TONGUE A LITTLE BETTER THAN P.J. CLAPP." HE THEN TOLD SOME HICK-CHIQUE STORIES ABOUT LIVING HERE IN KNOXVILLE, AND ABOUT A GUY NAMED BIG JOHN WHO USED TO FALL ASLEEP AT RED LIGHTS.

DAVE ASKED HOW LONG HE THOUGHT THE SHOW WOULD LAST, AND JOHNNY SAID THAT HE THOUGHT THAT THE CLOCK IS TICKING...

EVERYONE IS TALKING ABOUT THE SHOW LASTNIGHT. (I WORK AT AND ATTEND THE UNIVERSITY OF TENNESSEE...) PEOPLE HERE LOVE HIM AND LOVE THE SHOW. WHAT'S NOT TO LIKE???

3/30/01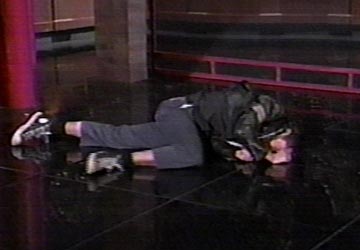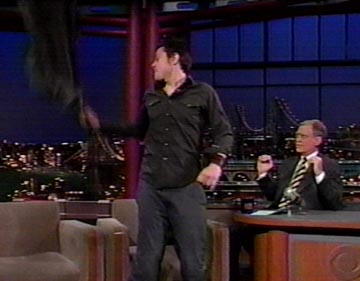 THIS WAS REALLY FUNNY. JOHNNY TAKES HIS JACKET OFF AND THROWS IT ON THE FLOOR BEHIND HIS CHAIR. DAVE LOOKS REALLY NERVOUS. HE'S NOT QUITE SURE WHAT JOHNNY IS DOING...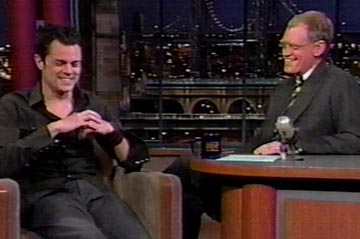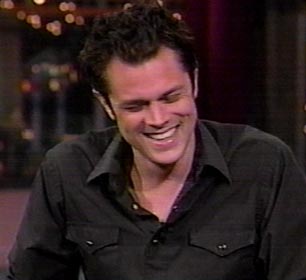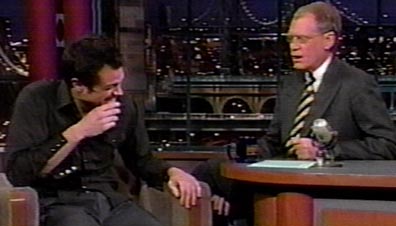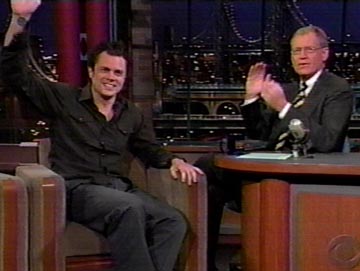 From the Home Office in Wahoo, Nebraska, it's the Top Ten List for January 12, 2001


Top Ten Ways The Army Is Trying To Boost Recruiting

10. Military transport flights now earn you Delta frequent flier miles
9. Where else can you shoot guns and get awakened in the middle of the night by loud explosions besides New York, Chicago and Detroit?
8. Get rid of all those creepy "Richard Simmons Wants You" posters
7. Intelligence spy satellite may be used to watch "Jackass" 24 hours a day
6. Try to work out a deal so that every person who enlists gets to have sex with Cameron Diaz
5. Superiors may now be addressed as "Dude"
4. Make it so every hand grenade has a creamy nougat center
3. Goodbye "Don't ask, don't tell" -- Hello "The gayer the better!"
2. Next mission: all-out invasion of Temptation Island
1. New slogan "Army of One" replaces "Hope You Like Scrubbing Latrines!"


I HAVE MISSED BOTH JAY LENO APPEARANCES, BUT HERE ARE A FEW SHOTS FROM THE SECOND INTERVIEW.